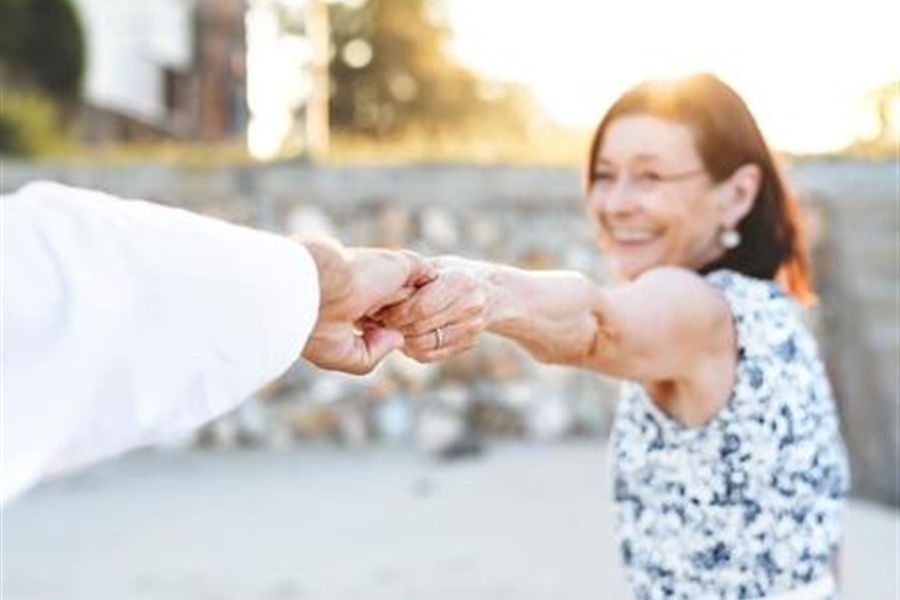 The ins and outs of planning a vow renewal by The Knot.
Why Renew?
Simply put, a vow renewal is a way to celebrate your marriage. Perhaps you've made it to 2, 5, 10, 25 or 50 years together and you want the world to know you'd do it all over again in a heartbeat. Maybe you want to reaffirm your commitment to each other after a rough period in your relationship. There's no wrong reason to renew.
How Soon Can You Renew?
A reaffirmation can take place anytime after your actual wedding—from the next day to 30 years late. Some couples don't want to renew too soon or too often, while others do it every year (seriously!).
Who Hosts?
Many couples host their own renewals, and some have their children do the honours. One trend we love is the couple's closest friends, perhaps the original maid of honour and best man, choosing to host the event. And don't feel like you have to find a secular event hall or an outdoor space to hold the ceremony—many traditional halls of worship make wonderful, meaningful venues.
Where Should It Be?
You can renew your vows in a house of worship, at home, on the beach, in a pretty garden or park, on a mountaintop or on a cruise—basically, anywhere that has sentimental meaning for both of you.
Who Officiates?
Because a vow renewal isn't a legally binding ceremony like a wedding is, virtually anyone you'd like can officiate the ceremony: a clergyperson, a judge, your children, a relative or close friends.
Who Should Be Invited?
You might choose to have an intimate reaffirmation, inviting just close family and friends who've known you through the years. But you can definitely throw a large party for your extended family and a wider circle of friends. A word of advice: Unless you're opting for a big bash, limit your guest list. This isn't the time to entertain work acquaintances.
What Should the Invitation Say?
The invitation is similar to a wedding invite, except no hosts' names are at the top: "The honour of your presence
 is requested at the reaffirmation [or renewal]
 of the wedding vows of
 Mr and Mrs Jonathan Smith [or Susan and Jonathan Smith]."
If the invitation is issued by the children of the couple: "The children of 
Mr and Mrs Jonathan Smith [or Susan and Jonathan Smith]
 request the honour of your presence 
at the reaffirmation ceremony
 of their parents."
What Should You Wear?
Feel free to dress up. If you're the bride, you could even wear your original wedding gown if you're comfortable with it. Or choose another dress—a pretty cocktail dress, formal evening gown or a nice suit, depending on your taste and the formality and style of the celebration. Skip the veil if you want, but wear a hat or flowers in your hair if you'd like. Carry flowers or pin a corsage.
If you're the groom, you might wear your original tuxedo or suit (or uniform if you're in the military), updated with a new tie or vest. Or choose a new ensemble for this celebration. Wear a gift of jewellery your wife has given you—cuff links, a watch—and a boutonniere in your lapel.
Should You Have a Wedding Party?
Attendants are unnecessary for a vow renewal, but you might choose to invite your original bridesmaids and groomsmen to stand up for you informally, for sentimental reasons. (They don't have to wear those outfits again, although they definitely could.) Many couples also involve their children and grandchildren, perhaps being escorted down the aisle by them or having them perform a reading during the ceremony.
Who Walks You Down the Aisle?
While there's no hard and fast rule, you could have your children escort you, or better yet, walk down the aisle together.
What Actually Happens During the Ceremony?
You'll exchange vows, recalling what you said when you were first married. You could also vary the verbiage and write original vows. This is an opportunity for both of you to really think about how you feel about your relationship, especially if the last time you exchanged vows was decades ago. After you've both spoken, exchange rings. These can be your original bands with new engravings (perhaps the date of your vow renewal or a meaningful quotation) or new rings purchased expressly for the reaffirmation (a great time to upgrade those bands, if you want to). Children, close relatives and special friends can do readings, and you can have meaningful music playing, just as you would at a wedding ceremony.
Should You Have a Reception?
Of course! The party can be any style, from a casual backyard barbecue or an intimate family dinner to a cocktail party or dinner as large and complex as a traditional wedding reception. There can be champagne, dancing, a cake—the works. You might bring along your original wedding photo album so you can take guests on a trip down memory lane (if you've just eloped, bring the recent pictures), as well as family photos through the years of your marriage. At some point during the celebration, the two of you can thank or toast family members and special friends for what they've contributed to your marriage over the years. And you'll probably be toasted by many of them. Be sure to hire a photographer to capture the event.
Should You Register?
A vow renewal is not the time to upgrade your kitchen or china collection. Skip the gifts and don't hold a shower—there's no need to turn this intimate soiree into a four-day festivity. If guests insist, suggest they make donations to your favourite charity.
Although vow-renewals aren't legal ceremonies requiring a celebrant by law, a celebrant is very experienced in these kinds of ceremonies and can make the whole process stress-free and the end-result fun for you and your guests. Find a celebrant who offers vow renewal services HERE